Listed here is an index of all the SU Podium video tutorials and training available here on the Podium site. Most of these are also available on our YouTube channel.
---
Getting started with SU Podium: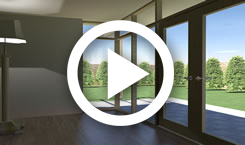 Introduction to SU Podium - Updated for SU Podium V2.6, this getting started series is the ideal starting point for beginners to rendering with SU Podium. There are 10 videos, all timestamped for easy navigation.
---
Quick Start Exterior with V2.5 UI: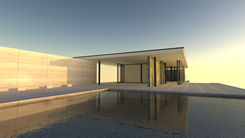 Quick Start Exterior Video Tutorial: Older but still relevant, this tutorial introduces basic rendering concepts while creating an exterior image. (Uses the SU Podium V2.5 UI)
---
Lighting Tutorials: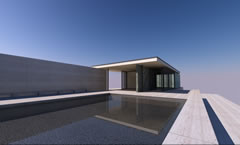 Sun and Sky Light - Natural lights
In SU Podium V2, there are two types of "natural" lights. Sun and Sky. Take a look at how to apply these lights. (This video uses the older V2 user interface but is still very helpful)
---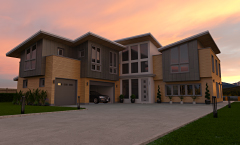 HDR image-based lighting
This video explains and demonstrates the new HDRI lighing feature in SU Podium V2.6.
---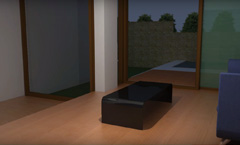 Omni Lights, Spot Lights, Light Fixture libraries
This method uses an inferencing system which makes placement very intuitive. These video tutorial demonstrate how to create omni/ point lights and spot lights.
---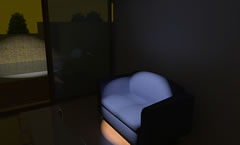 Spot light settings overview
A closer look at Podium's spotlight settings: Color, light power, inner and outer cone angle.
---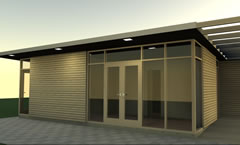 LEM Lighting
In SU Podium V2, there are three types of "artificial" lights. This video tutorial presents LEM lighting.
---
Material Tutorials: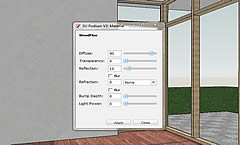 Applying Material Properties
In SU Podium V2, reflections and other rendering properties are applied to textures in the model. This video examines how to apply reflections.
---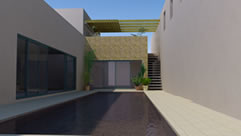 Automatic materials
Predefined Podium reflection, blur, and refraction properties are automatically applied any standard SketchUp textures/materials that are used in your model.
---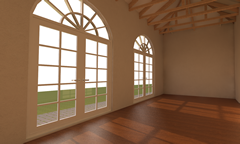 Podium Browser materials
Podium Materials are dropped in to SketchUp as cubes. This simple tutorial shows how the material cubes work and how easy it is to get high quality render-ready materials into your model.
---
Podium panorama tutorials: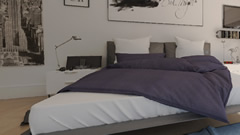 Podium panorama introduction
Learn how to use Podium to create 360° panoramic renders to be used in interactive VR presentations.
---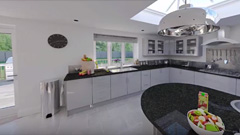 Creating a kitchen panorama with Podium Browser
Six minute time-lapse showing how to design and render a kitchen panorama entirely from Podium Browser.
---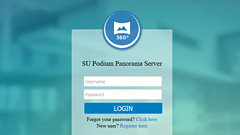 Uploading and sharing panoramas on the Pano Server (www.panopdm.com)
We cover the basics of the Podium panorama web server to easily convert and share EQ images to 360° panoramas.
---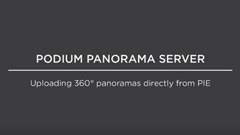 Uploading to the Pano server from PIE
Short video showing how to upload a Podium panorama to the server directly from Podium image editor.
---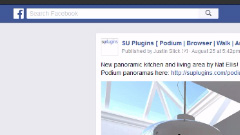 Uploading a Panorama to Facebook
Quick video showing how to add requisite meta-data to a panorama render so Facebook recognizes it as 360° content.
---
Miscellaneous Podium Tools & Tips: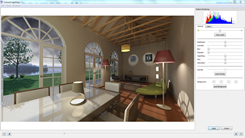 Podium Image Editor
Podium Image Editor is a new feature of V2.5 Plus. It provides post-processing, image editing to quickly edit your rendered image within SketchUp
---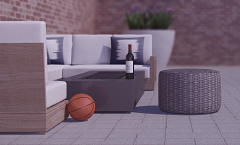 Depth of Field with Podium
This two-part tutorial explains and demonstrates how to export a z-depth pass from SU Podium and use it to add realistic photographic depth of field to you Podium render.
---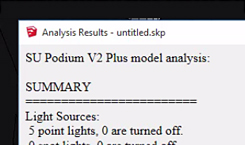 Podium Analyse Tool
Analyse can help troubleshoot issues by providing information about the number of point/spot lights, LEM lights and all the materials with Podium properties.
---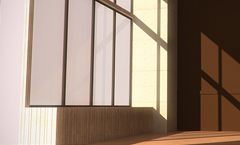 Post-processing: Adding basic light bloom in Photoshop
Quick look at how to add "light bloom" in Photoshop to liven up a Podium render.
---
Podium Browser Tutorials & Design Series: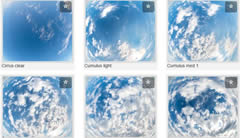 How to use Podium Browser Cloud Domes
Examine how to use Podium Browser cloud domes inside SketchUp to obtain realistic Panorama renderings.
---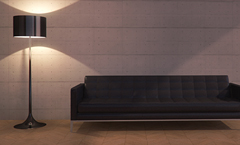 Adjusting light power of Podium Browser fixtures
Examine how to change the light power in the point and spot lights in Podium Browser light fixtures
---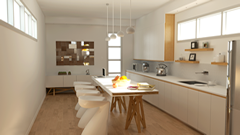 Kitchen Design with SU Podium
This simple tutorial will show examples of Podium Browser kitchen design components that can be instantly dropped into your SketchUp model and turned into high quality images.
---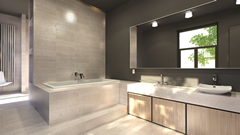 Bathroom Design with SU Podium
SU Podium Browser Paid Section now has thousands of render ready materials and components that make interior and exterior design easy to develop and even easier to turn into realistic images. This video tutorial examines materials and components that make modeling and rendering a bathroom a snap.
---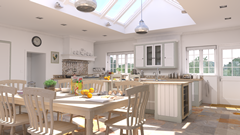 Kitchen Design Timelpase
A full kitchen/ dining room designed from the ground up in SketchUp using Podium Browser components and visualized with SU Podium V2. Nat Ellis' beautifully presented model is turned into a video with several design stages presented to the viewer.
---