1. Generate script:
SU Podium includes the ability to generate a .script file, which can then be rendered at a later time, or sent to another computer for rendering. As of V2.5.5, the generate tool usese relative file paths, which allows you to render your script on any machine with an SU Podium license. Read more about the Generate script tool.
2. Tools → Analyse
The Analyse Tool is a very useful tool to help troubleshoot issues that may occur in the rendering process. This feature will analyse the SketchUp model and Podium materials, and display information about the number of point lights, spot lights, LEM lights and all the materials that have Podium properties. Analyse has the ability to identify and flag several common issues that can cause SU Podium to crash or fail. Read more about the Analyse tool here.
3. Reset Materials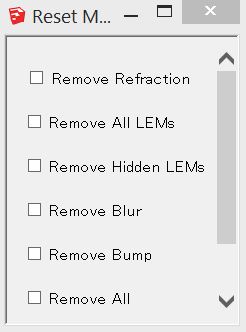 Reset Materials will completely delete all Podium V2.5 material properties in the current model. So, do not use this feature without first making a copy of your modeling and renaming the copy.
This allows you to specify what material properties you want to removed through out the entire model (globally). Use this tool after you run Analyze. Remove Materials is irreversible once the model is saved.
4. Reset Tilt
This is a utility program we have created that will reset the SketchUp camera tilt to zero. When you invoke Reset Tilt, your camera tilt angle will be reset to zero. You will notice the change. Reset Tilt was create primarily to help with setting up equirectangular images for PanoramaVR. However, you maight find it useful as an alternative to 2 point perspective. Please read more about Panoramas here.
5. Toggle Point/Spotlights
Toggle point lights: This command will toggle all point lights in your model on/off.
Toggle spotlights This command will toggle all spotlights in your model on/off.
---