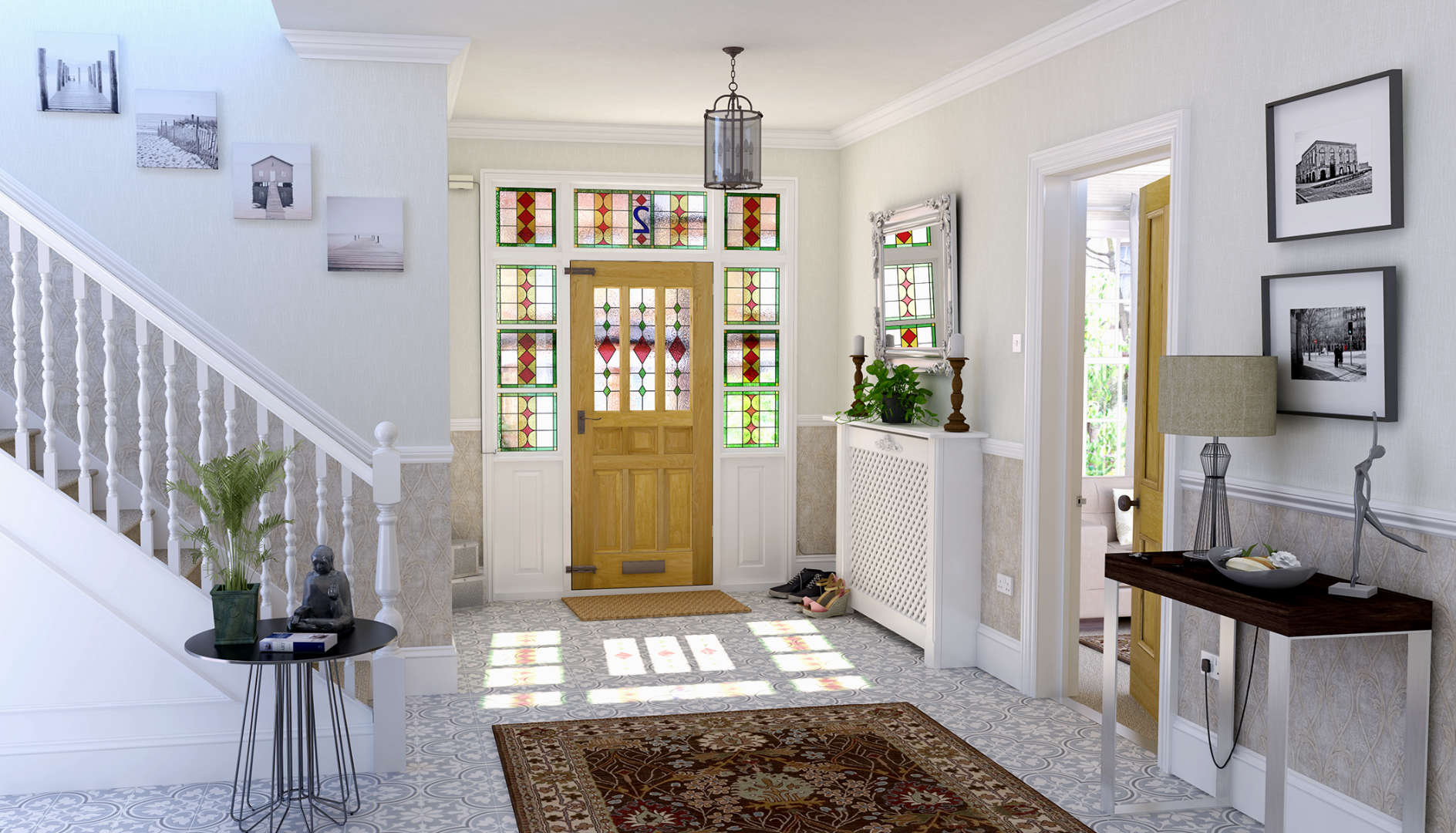 Image by Kevin Lee
SU Podium V2.6 is a photorealistic rendering plug-in for SketchUp developed to turn your SketchUp model into a photo-real image with realistic lighting, material properties, reflection, and refraction.
SU Podium V2.6 employs advanced rendering technology but sticks to it's original intention: To make photo-realistic rendering for SketchUp an easy and rewarding task. The user interface is simply and does not require advanced knowledge of rendering techniques.
Raytracing and Global Illumination: SU Podium uses a photon mapping algorithm that provides accurate raytracing and global illumination that yields beautiful, photo-realistic images. Although the user does not have to be aware of what technology is being used, it's important to note that you can obtain high quality images with realistic reflection and lighting, quickly.
Multi-Threading: SU Podium uses multi-threading to take advantage of all your CPU cores and threads. Podium is not a hybrid render-engine; for a GPU based solution, we offer ProWalker GPU powered by NVIDIA Iray.
Cross-platform accessibility: SU Podium V2.6 supports Windows or Mac operating systems, with support for SketchUp 2017 (Win only) 2018, 2019,2020, 2021,2022. Earlier SketchUp version users will need to install SU Podium V2.5, which is backward compatible to SketchUp 2014.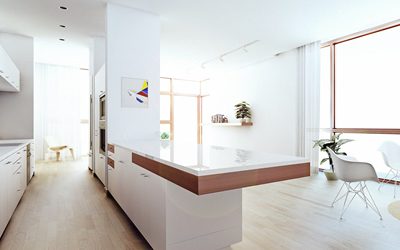 Realistic Materials: An essential part of creating SketchUp models is applying textures to faces. SU Podium can turn these plain textures into realistic materials quickly and intuitively via the Podium material user interface. Reflections, refractions, bump maps and other advanced properties can be applied to a specific SketchUp material. When rendered these properties bring the model to life by reflecting light and the environment. You can use standard SketchUp materials as well higher resolution textures from a variety of libraries as well as Podium Browser content.
Related to Materials:
Podium Browser Materials: Podium library of higher resolution textures and hundreds of pre-made render ready Podium materials in the Podium Browser.
Automatic Materials: When Automatic Materials is on, SU Podium understand that certain SketchUp standard materials will be assigned pre-defined Podium photo-realistic material properties. Using this option can save you a lot of time in applying good reflection, blur, refraction or bump properties to materials if you are using SketchUp standard materials.
Click here to watch an introduction video on Podium Material properties.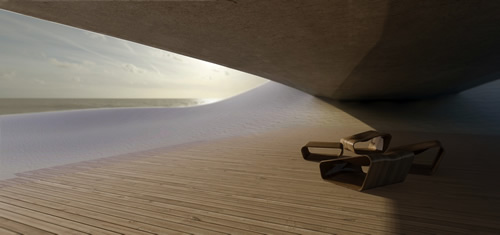 Lighting up exteriors and interiors: SU Podium V2.5 has two types of natural lights. Sky and Sun. These are both "exterior" lights but will have a lot of effect on interior renderings if you are using windows and openings to the exterior.
Sky Light: - Sky light is an ambient light source applied evenly to the entire SketchUp background.
Sun Light - Sun light is a directional light source that uses SketchUp's sky and shadow settings (SketchUp shadows must be turned on). The sun's brightness, exposure, and shadow direction can be controlled by changing SketchUp's date and time of day in the shadows dialog. When sun light is on, you can use Podium's Physical Sky to create a realistic sky background with atmospheric qualities such as turbidity and realistic tonemapping.
HDRI/IBL lighting HDR image-based lighting (HDRI) is a versatile alternative to the two Podium physcial skies, providing an easy way to light your exterior images in a wide range of lighting conditions. When HDRI lighting is active, the chosen HDR becomes an all-in-one solution for the sky, background, and natural lighting in your render. This streamlines the exterior rendering workflow and provides several advantages such as 360 degree backgrounds, never have to worry about adding a background in post-processing, ability to quickly see your model in several lighting scenarios without any extra work. Further, SU Podium V2.6 will support any HDRI/ IBL images from a vareity of sources.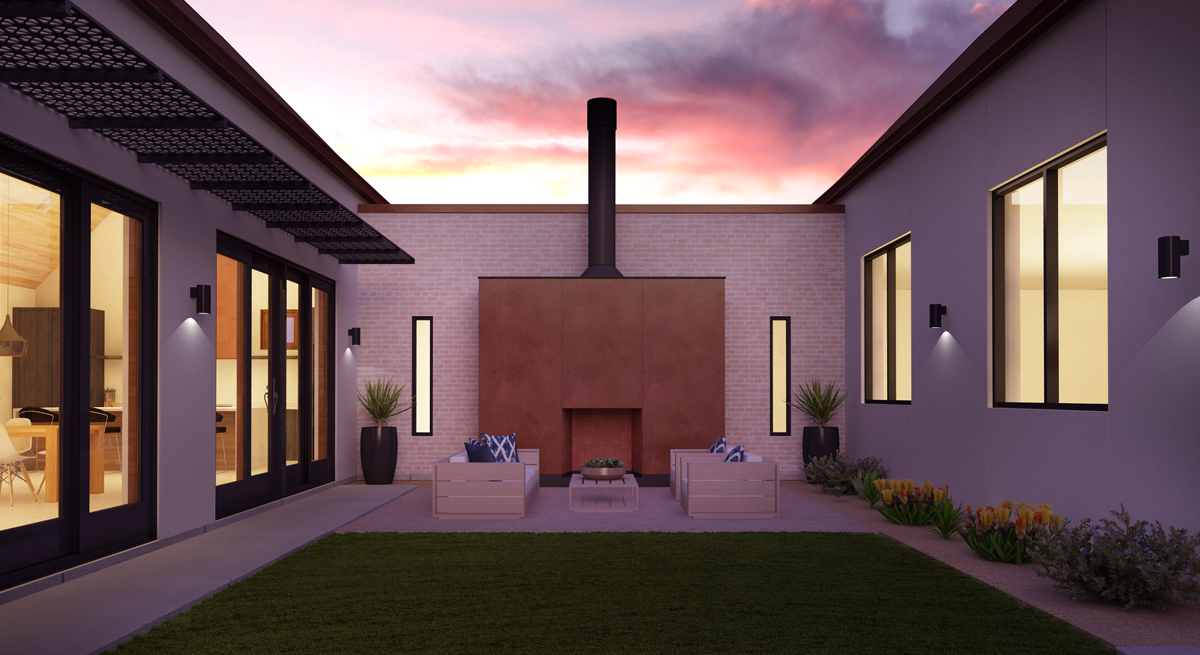 Omni & Spot Lights Omni light or Point light is an artificial light source which emits light uniformly in all directions, similar to a light bulb. To insert an omni light or point light, click on the point light icon in the tool bar and drag an omni light into the model. The omni light/ point light is a SketchUp group called a light group. You can see the light group in SketchUp's outliner.
LEM Lights: Unlike Omni and Spotlights, Podium LEM materials use actual SketchUp geometry to cast illumination into a SketchUp scene. LEM materials can be applied to any face in your SkethUp model an used as a visible illumination source (like a lightbulb, neon sign, etc.)
Podium Browser Light Fixtures: SU Podium V2.6 includes the full version of Podium Browser content. Podium Browser provides thousands render ready light fixtures that have artificial point, spot-lights and LEM lights carefully configured for accuracy, and ready to render.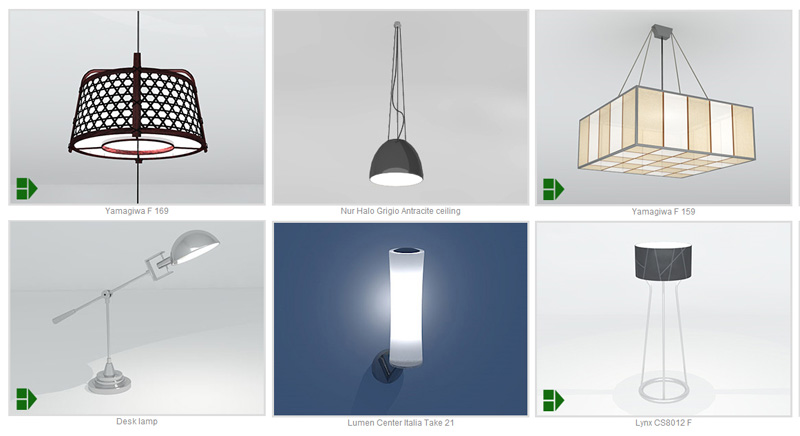 SU Podium Browser is now fully included with a V2.6 license! Podium Browser is a growing library of over 20,000 render ready components that can be dropped into a SketchUp model and rendered without any additional setup.
Podium Browser is automatically installed with SU Podium and provides thousands of furntiure items, light fixtures, high resolution textures, plants, trees, vehicles, and household components to use in your SKetchUp scenes.
Everything in the library is pre-configured with Podium material properties to that the items can be used in your designs without any additional setup time. The library includes dozens of furniture assemblies so that you can populate and visualize interior spaces faster than ever before, and of course everything is fully customizeable so that you can modify anything to suit your specific needs.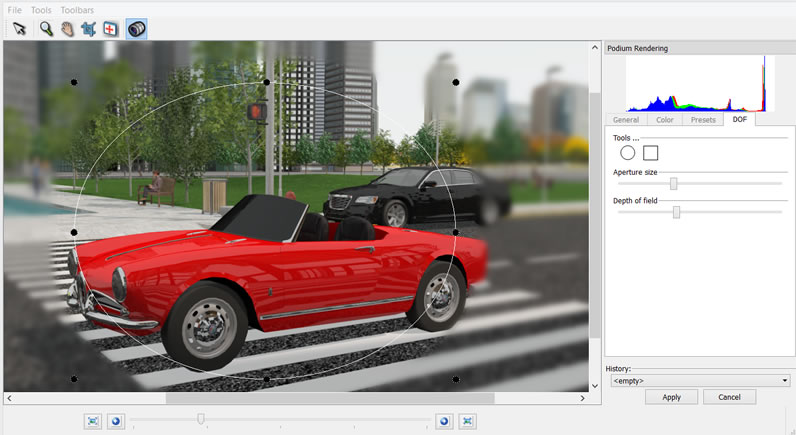 Post Processing with Podium Image Editor: PIE is part of SU Podium V2.6. It was created so that Podium users can do quick post processing or image editing of Podium rendered images. Post processing means making changes to the bitmap image created by Podium. For example, editing the light levels, brightness, cropping the image, adding a background to alpha transparent image, create Depth of Field areas, adding an overlay and blending are some of PIE's features.
To do any post processing, previously, you needed a good image editor like Photoshop. PIE makes it easy to do much of the post processing inside SketchUp and in fact directly from SU Podium after the rendering is completed.