With the introduction of SU Podium V2.6, Podium Extras has been integrated into the Tools menu that is in the SU Podium V2.6 pull down menu. (If you are still using SU Podium V2.5, you can find these features in the Podium Extra as well as Tools pull down menus).
1. Analyse
The Analyse Tool is a very useful tool to help troubleshoot issues that may occur in the rendering process. This feature will analyse the SketchUp model and Podium materials, and display information about the number of point lights, spot lights, LEM lights and all the materials that have Podium properties. Analyse has the ability to identify and flag several common issues that can cause SU Podium to crash or fail. Read more about the Analyse tool here.
2. Reset Materials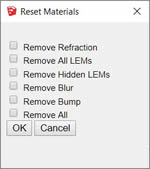 Reset Materials will completely delete all Podium material properties in the current model that you select from the Reset Materials dialog box. It's recommended that you do not use these various remove options without first making a copy of your modeling and renaming the copy.
Reset Materials allows you to specify what material properties you want to remove from the entire model (globally). Use this tool after you run Analyze. Reset Materials is irreversible once the model is saved.
3. Toggle Point/Spotlights
Toggle point lights: This command will toggle all point lights in your model on/off.
Toggle spotlights This command will toggle all spotlights in your model on/off.
4. Reset Tilt
This is a utility program we have created that will reset the SketchUp camera tilt to zero. When you invoke Reset Tilt, your camera tilt angle will be reset to zero. Reset Tilt was create primarily to help with setting up equirectangular images for PanoramaVR. However, you might find it useful as an alternative to two-point perspective. Please read more about Panoramas here.
5. Preset Editor
Read about Preset Editor here.
6. Image Editor or PIE
Image Editor is a direct way to access the Podium Image Editor instead of going the the Edit button in OOPR/ Render Manager. Read about PIE here.
7. Cubic VR
Cubic VR is a useful tool to use when creating Panoramas with SU Podium. Essentially, it is a quick way to create non-photo-realistic 360 X 180 degree panoramas. Read about this useful utility here.
8. Reset Edge Smoothing
Reset Edge Smoothness automatically resets edge smoothing (anti-aliasing) to low, or back to default, on all materials in the model. It is very useful if you want to forgo the edge smoothing process and increase the speed of rendering to test for overall light, reflections, etc. Read about Reset Edge Smoothing here.
9. Generate All
Generate All is a tool to render all the current SketchUp scenes in your model. It has replaced Render All and must be used with Generate Scripts. Please read about this important utility here.
10. Light Fixture Outliner
Light Fixture Outliner is similar to SketchUp's Outliner, but specific to selecting and editing Podium lights faster and easier. Read More here
11. Nudge
Nudge allows you to scale, rotate, or translate groups and components along any axis. Although specifically designed to randomize perfectly aligned, scaled and rotated components like plants and furniture, it can also be used for a series of precise incremental transformations. Read more here.
12. Podium Light System
This is simply another way to access the Podium Light System which controls the point lights and spot lights user interface. Normally you would access this feature from the light bulb icon in the SU Podium Tool bar Read more here.
---