"Package can not be opened because it is from an unidentified developer" Error
Mac OS-X Issue
Apple requires software developers to have Apple approved digital signatures for installation programs to run if your Mac Gatekeeper is on (with Sierra, High Sierra and Mojave the Gatekeeper is on). Cadalog, Inc. does has Apple approved digital signature and an active Developer ID. However, during Beta versions, getting the Apple signature each time a new beta pkg is created is too time consuming. So we like to wait for the final release to get the Apple Signature for the pkg installation.
However, Cadalog's Mac Beta plug-ins can be installed safely and securely for Mac OS-X. Please read below to for installation on if you are getting this "Package can not be opened because it is from an unidentified developer" message.
After downloading and unpacking the .zip file, you will see a Podium .pkg installation file. Normally you double click on the .pkg file from your Download folder to initiate the install. However, on the Mac OS-X , you may get a similar message as below (for any version of SketchUp):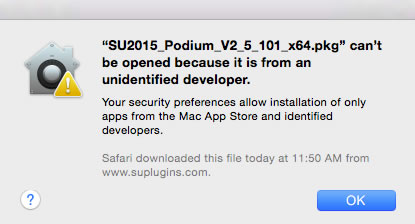 Currently with High Sierra and Mojave there is only one way bypass this restriction.
Right click on the .pkg file and Open the Installer. See the below image for an example:

When you open the installer, you will see a message like this: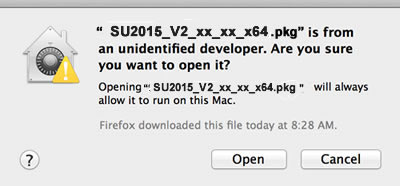 Select open and the installation will begin.
---