Installation Failed message is not common but it does happen on some Mac OS systems including Maverick and Yosemite for a variety of reasons.
Most common reason is because you may have inadvertently clicked on Install for Me Only instead of Install for all users during the installation. If this is the case, run the install again and make sure you choose Install for all users of this computer. In some cases you may have to Go Back and then Continue for the Install for all users of this computer to be available.
However, there may be other reasons why the installation has failed. This is not unique to SU Podium. A variety of programs including Office are known to have Installation Failed problems.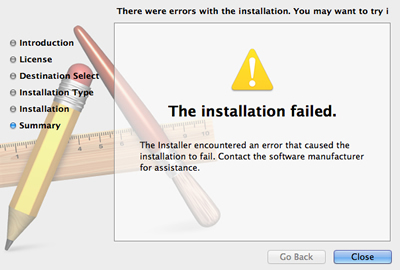 Turn off FileVault and Firewall in the Security and Piracy option in System Preferences.
FileVault or Firewall are known to block installations.
Use Pacifist
If updating your SU Podium V2 software or turning off FileVault or Firewall does not help, use a shareware program called Pacifist from CharlesSoft. This program will bypass the Podium Mac installer (package maker) and install Podium to the correct folders.
First locate the folder where the install file for SU Podium V2 or V2 Plus. If you have not, unzipped the pkg file locate SUPodium_V2_xxx_pkg.zip and unzip it by doubling click on it. This will extract the SUPodium_V2_xx pkg file.
Download Pacifist from Charlessoft.com and install it (drag the Pacifist file to the application folder.) Then run it. This is a shareware program and you will be asked for a donation and Register which you do not have to. You will also be you want to install the QuickLook plug-in which you do not have to. After install Pacifist to your Application folder on your Mac:
Open Pacifist. You are not required to Register if you do not want to donate to the Pacifist Shareware. Choose Not Yet if you do not want to donate.
You are not required to install the QuickLook plug-in for Pacifist. Choose Don't Install.
From the Pacifist main menu, select Open Package.
Select the SUPodium_V2_xx.pkg file which should be in your Download folder.
Next you will see a screen that has Install, Extract, Verify, Show Info, View Files. Install is the best option.

Next tell Pacifist to install the SU Podium V2 files. There are 2 files and one folder. ( SU_Podium_V2 folder and SU_Podium_V2.rbs). During the install, you will probably need to authorization Pacifist to install SU Podium V2.


Install is the easiest method compared to Extract. This will install Podium files and folder to the correct, default directory which is Macintosh HD\Library\Application Support\SketchUp 2013\SketchUp\Plugins\ folder.
Once Pacifist has installed SU Podium V2, Open SketchUp and make sure SU Podium V2 is installed. Render something and you will be prompted for a license code before OOPR starts. Once you enter your license code and get a License accepted message, restart SketchUp.
---