Catalina issue "can't be open because Apple can not check for malicious software". Update to V2.6.041 or V2.5.909
Mac OS-X Catalina install issue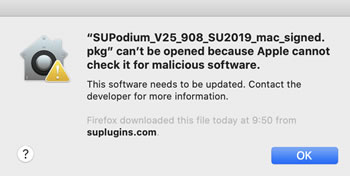 Apple requires software developers to have Apple approved digital signatures for installation programs to run if your Mac Gatekeeper is on (with Sierra, High Sierra, Mojave and Catalina). Cadalog, Inc. does has Apple approved digital signature and an active Developer ID.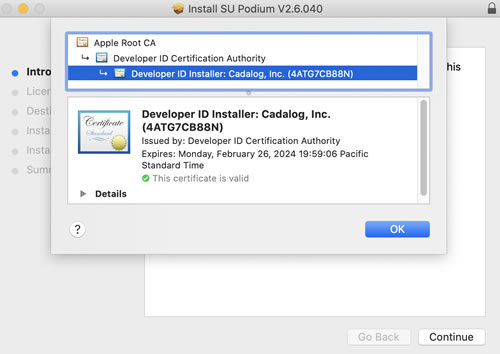 Catalina, requires an additional step for the install .pkg files to be certified, even though the SU Podium V2.6 and V2.5 installers have been certified for High Sierra and Mojave. If you have not updated your SU Podium V2.6 to most current version, please do. For V2.5 users, update to V2.5.909 but for SketchUp 2019.3 only. Otherwise, it's likely your installation of V2.6 or V2.5 will be blocked. But there is an easy work around.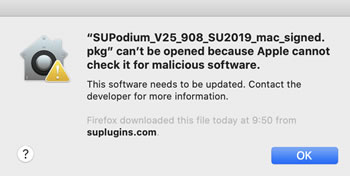 When you first run the V2.6 or V2.5 .pkg installer in Mac OSX 10.5 Catalina you will see the above dialog box, blocking your installation.
Right click on the .pkg installation file such as SU2019_Podium_V26_040.pkg in Finder.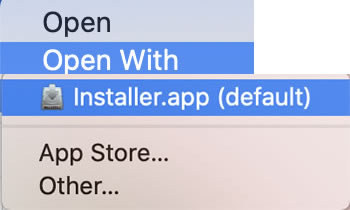 Use Open With and pick Installer.app
You will then see this dialog box also blocking the installer.app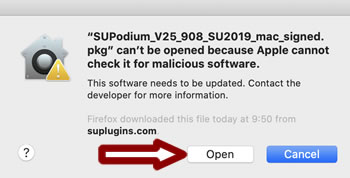 However, there is an Open button. Select the Open button. This will launch the SU Podium V2.6 installer in Catalina and you can proceed to complete the installation.
---