"Package can not be opened because it is from an unidentified developer" Error
Mac Mt. Lion Issue
Mac OS-X 10.8.x, 10.9.x Maverick, 10.10.x Yosemite users. Apple requires software developers to have Apple approved digital signatures for installation programs to run if your Mac Gatekeeper is on. Cadalog, Inc. does has Apple approved digital signature and a Developer ID. However, the Apple gatekeeper sometimes does not recognize Cadalog's certificates or ID for some unexplained reason.
However, Cadalog's Mac plug-ins can be installed safely and securely for Mac OS-X. Please read below to for installation on if you are getting this "Package can not be opened because it is from an unidentified developer" message.
After downloading and unpacking the .zip file, you will see a Podium .pkg installation file. Normally you double click on the .pkg file from your Download folder to initiate the install. However, on the Mac OS-X 10.8.x and above, you may get a similar message as below (for any version of SketchUp):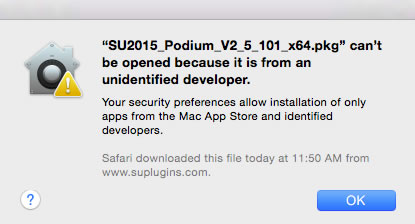 There are two ways to bypass this restriction.
1. Open Security and Privacy from System Preferences. Choose the General Tab. On the lower left corner, click the lock to make changes. Enter your Mac password to unlock. Then select the Anywhere option under the "Allow apps downloaded from:". The click the lock icon.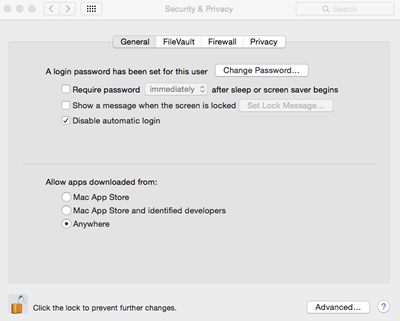 2. An alternative way without making changes to your Security and Privacy settings is, right click on the .pkg file and Open the Installer. See the below image for an example:

When you open the installer, you will see a message like this: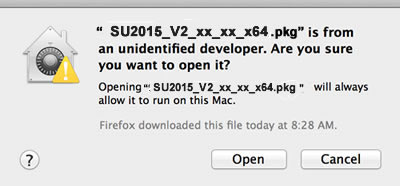 Select open and the installation will begin.
There is some information about the issue of Unidentified Developer programs and how to avoid this message on your Mt. Lion, Maverick or Yosemite system here.
---