With over 16,000 components, Podium Browser offers a vast selection of interior and exterior furnishings, decorations, plants, and tiling Podium materials.
This selection is marvelous for seasoned designers and visualizers, but the huge size of the library can be overwhelming if you don't know what you're looking for. The goal of the "Style Focus" is to educate and inform users about the fundamental characteristics of several common design styles. Knowing the conventions of a style makes for more efficient decision making, and help you avoid mismatched selections that muddy the impact of your images.
Organize and collate - Each entry in the series will provide an organized list of Podium Browser items that are suitable for use in that particular design style. We hope to gradually build a Podium Browser quick-reference library to make the process of digging through Podium Browser categories a little less time consuming.
---
Industrial-style interior design was born out of an effort to convert old factories and abandoned warehouses into living space in high-density urban areas where real estate is at a premium. The goal in industrial design is to celebrate the building's past, and showcase the raw materials and structural components that make up a space. Elements that would be concealed in other styles—like pipes, beams, and ventilation—are showcased proudly in industrial interiors.
Celebrate and display raw structural elements and materials —ducts, ventilation, pipes, structural beams, etc.
Visibly show the materials that make up a home — brick is left exposed, concrete floors are left bare.
In conversions/renovations, the goal is to highlight not hide the building's original purpose. Raw elements are visible to remind inhabitants of the building's original purpose.
Metal, wood, and brick are primary material choices - Especially steel and rough, weathered wood.
Decorative pieces are selected for functional utility as much as style.
Neutral color palette; patterns and colors are used sparingly to avoid drawing attention away from the space's built-in character.
---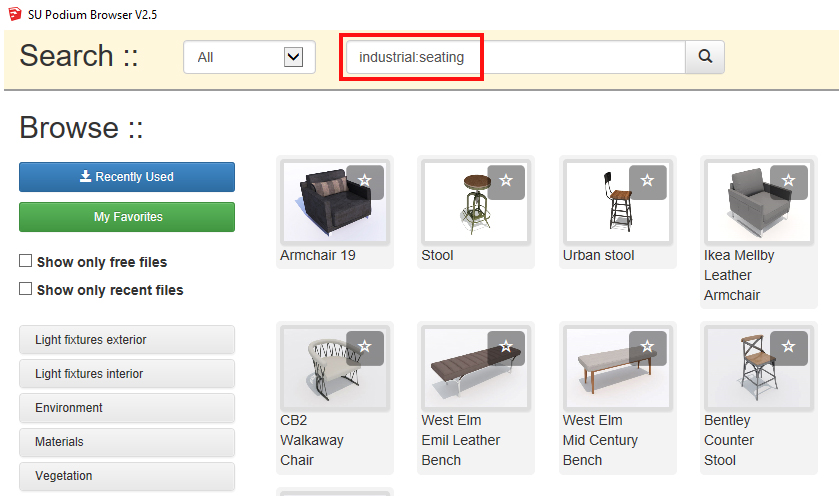 Our goal on this page is to provide an organized list of suggestions that users can consult when working with Podium Browser in the industrial style.
Note that the style suggetions made here are not hard-and-fast rules, nor are the lists necessarily comprehensive.
It is simply a reference file that you may use to streamline your design process. We will provide a practical demonstration in the second part of this guide (coming soon).
Finding these components in the Browser: All the Browser components referenced on this page have been tagged with category-specific search terms on a section-by-section basis. Podium Browser uses an "exact-match" search engine, so the tags must be typed into the Podium Browser search bar exactly as seen below to find that group of items in the Browser:
Each of the following Podium Brower search tags corresponds to a set of components featured in this document:
industrial:sofas
industrial:chairs
industrial:tables
industrial:storage
industrial:materials
industrial:storage
industrial:hardware
industrial:decoration
Weathered and rough surfaces that showcase the raw characteristics of the component materials are preferred, tables and shelving that use black steel and reclaimed wood are extremely common, and might be considered the quintessential "industrial furniture" items. Textiles are usually solid/unpatterned, and leather is a great fit for the style.
In terms of design language, seating in an industrial styled space shares much in common with contemporary and urban modern design. Indeed if we were shopping for a real world space we might browse some of same brands/retailers to source pieces—West Elm, Restoration Hardware, Dania, etc.
Sofas and Chairs — industrial:seating
Mid-century and contemporary brands like West Elm and Camerich are a good fit for industrial rooms. We picked low-profile sofas with wide footprints that emphasize horizontal lines.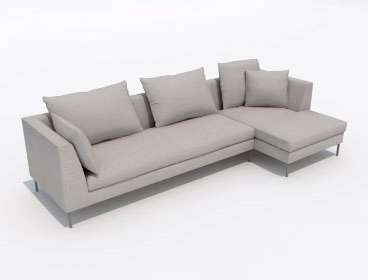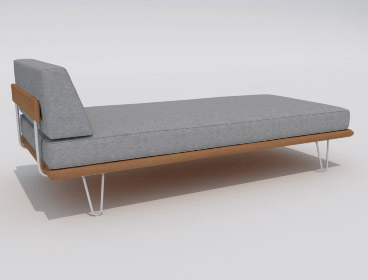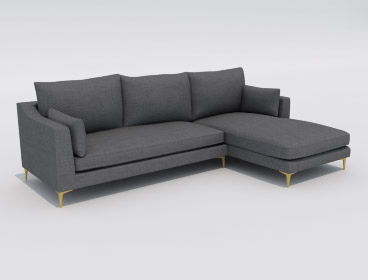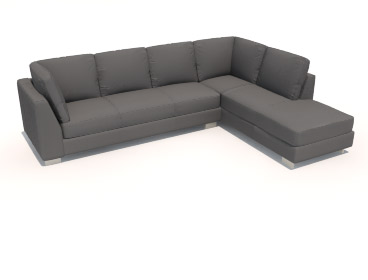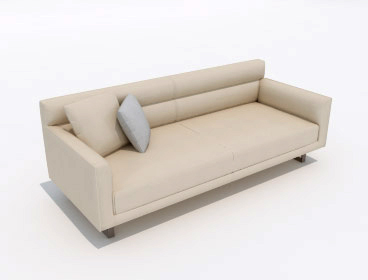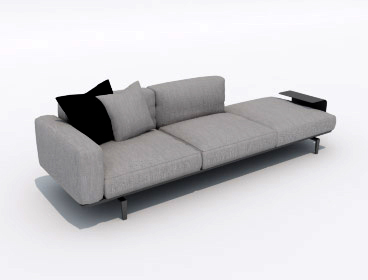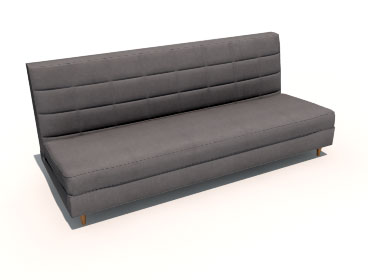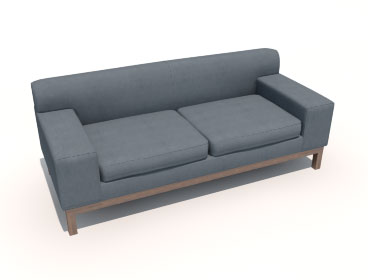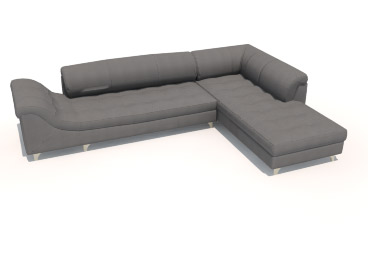 Stools are an especially nice touch, and anything that incorporates metal in the design is a bonus.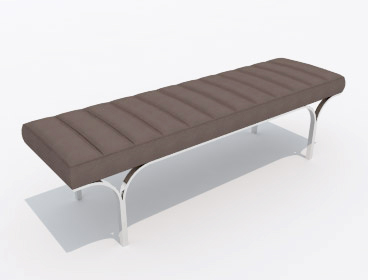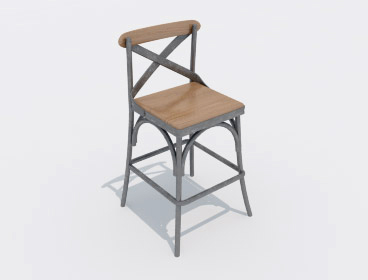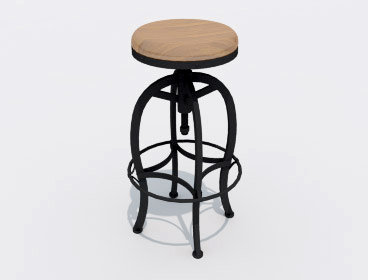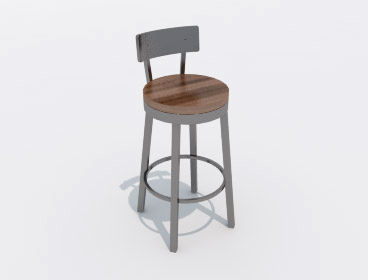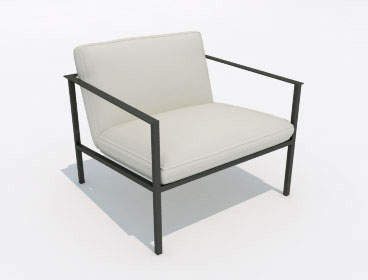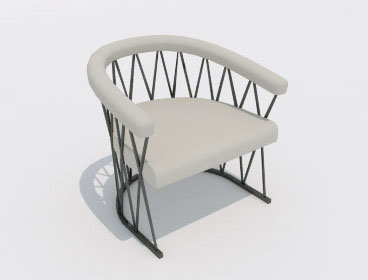 Living and Dining tables — industrial:tables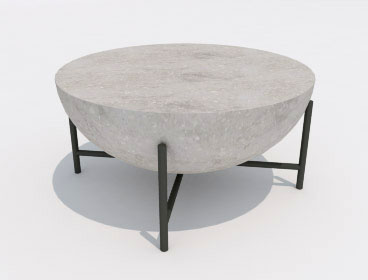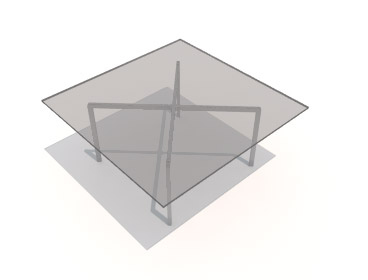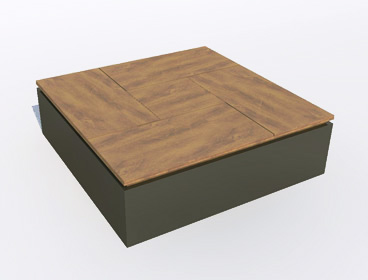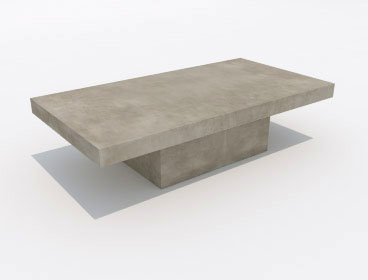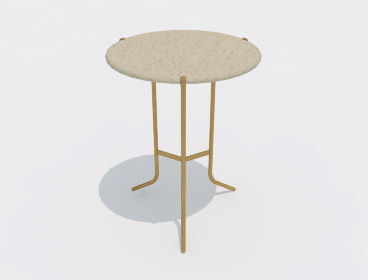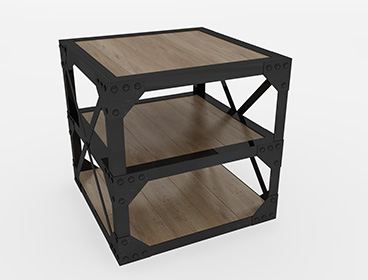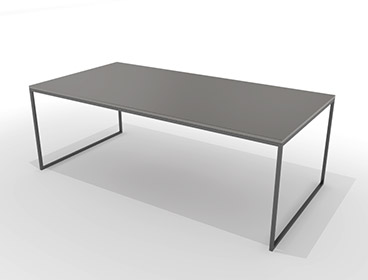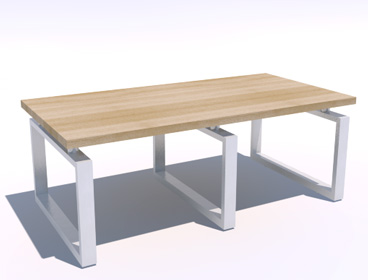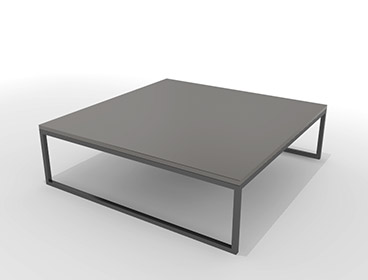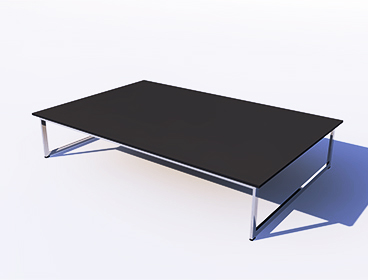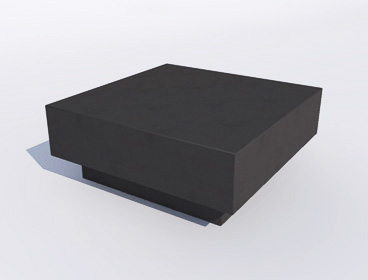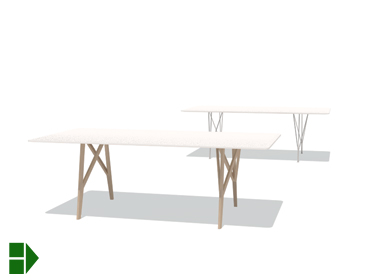 Low profile, rectilinear tables work well in an industrial space. Table pieces are yet another opportunity to play with the contrast of wood against concrete or metal. Very often if the surface is wood, the legs and trim will be metal (or vice versa).
Tip - Don't forget, if you can always modify or swap the materials on a Podium Browser component to suit your needs—several of the tables shown above would look just as good with a weathered wooden surface.
Storage — industrial:storage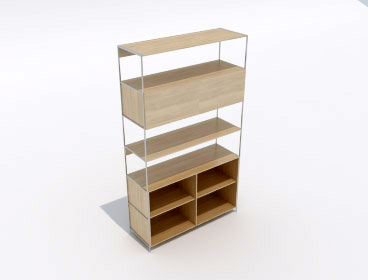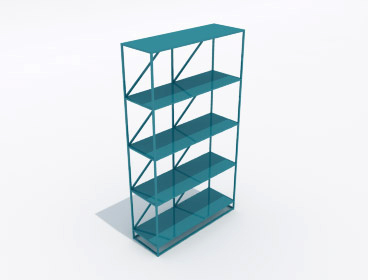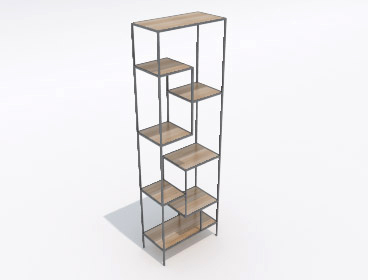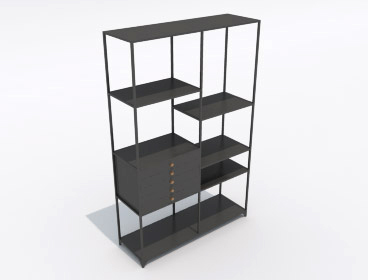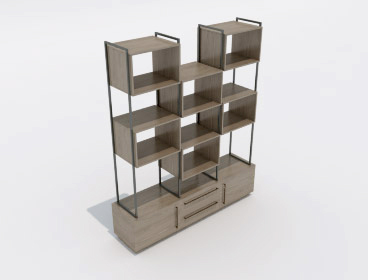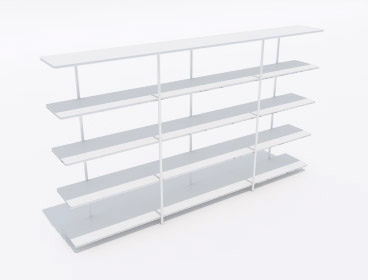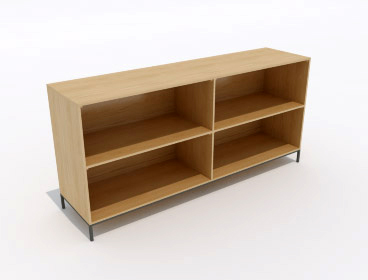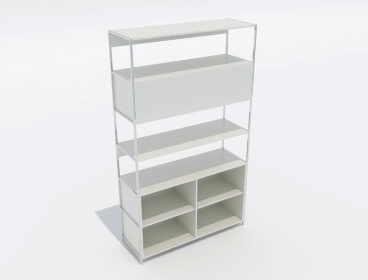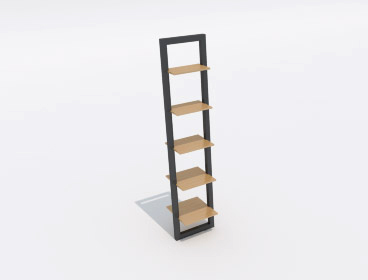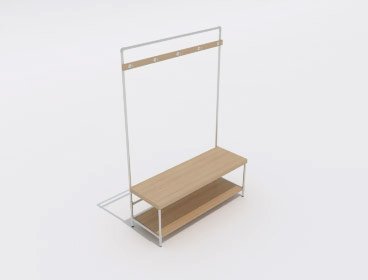 Open-style shelving has a casual, utilitarian look that fits perfectly with the raw practicality of industrial design. Metal and modular units with wire cross-braces are particularly appealing. Once again, several pieces by West Elm are right on trend.
---
Raw, unfinished materials are a cornerstone of industrial design, and an industrial style living space will almost always feature some interplay between metal and wood.
Additionally, if brick is present in the space it is generally left exposed on some or all walls. Floors are polished concrete, wood, or stone; avoid tile and carpet.
Walls - Exposed brick when possible
Podium Browser, of course has dozens of good brick textures. We tried to pick a collection with an aged, weathered look to suit the style, but there are over a hundred additional brick textures in the masonry category.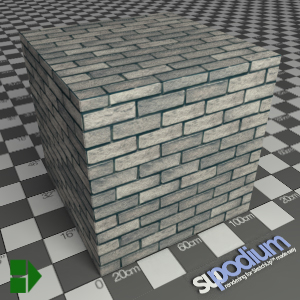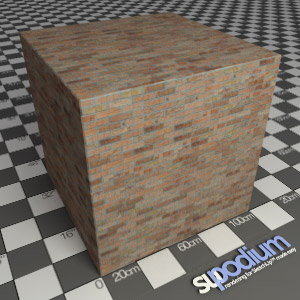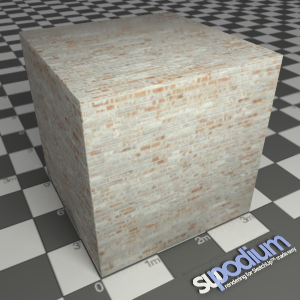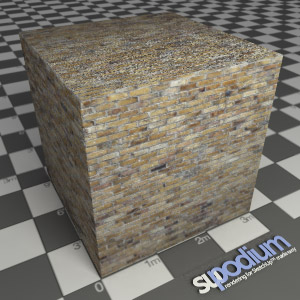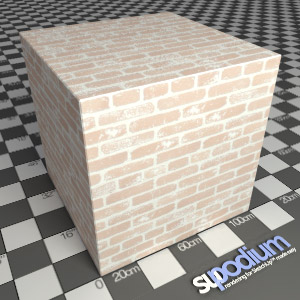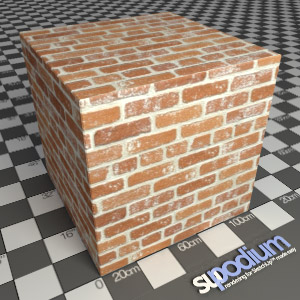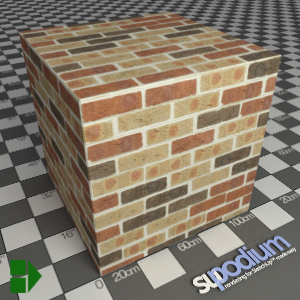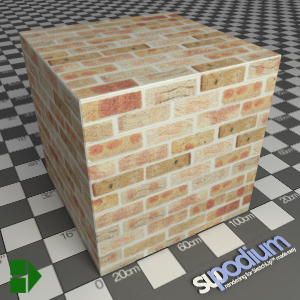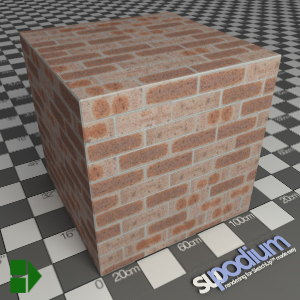 ---
Many modern industrial living spaces will use white or neutral drywall on three walls, and leave a single wall of exposed brick. This creates an appealing contrast and helps create an impressive, attention grabbing focal point.
Floors - Polished concrete and wood are most commonly seen in the industrial style.
As above, the wood textures shown here are a tiny fraction of the overall Podium Browser offering. If you do use wood flooring, reduce the amount of polish and make sure blurred reflection is selected to give the impression of age. The "bump" material attribute can also be increased if necessary.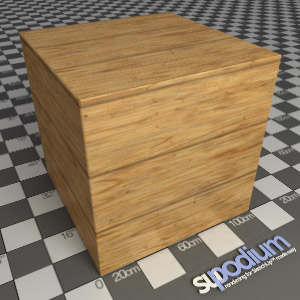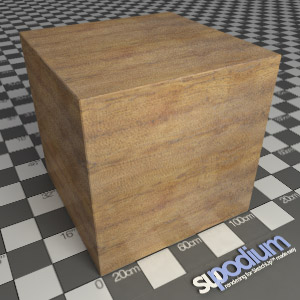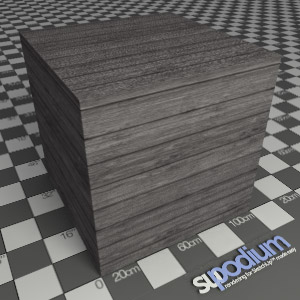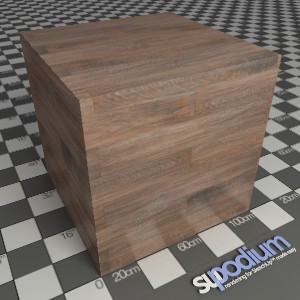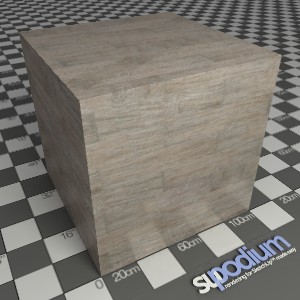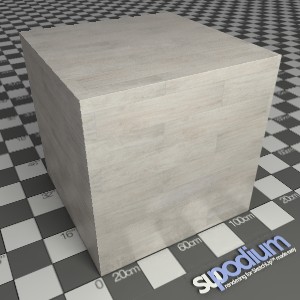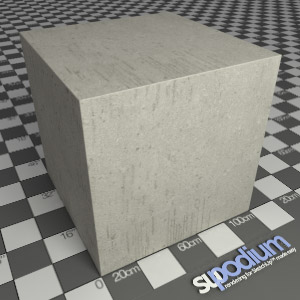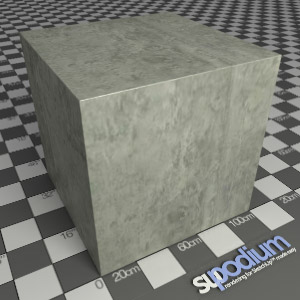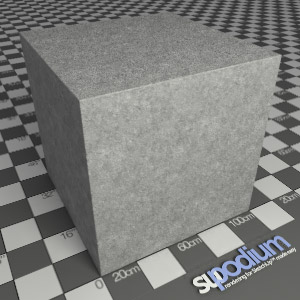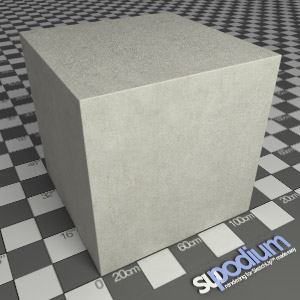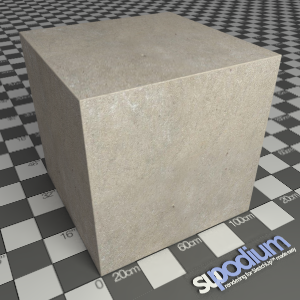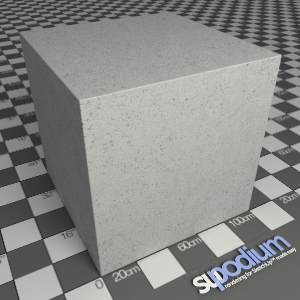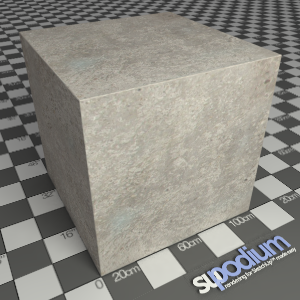 ---
Tip - Industrial floors are rarely tiled, and almost never carpeted.
---
Suspended/pendant - Because industrial spaces often have high ceilings, suspended pendant lights are a staple of the style, especially those with an open cage and visible bulb.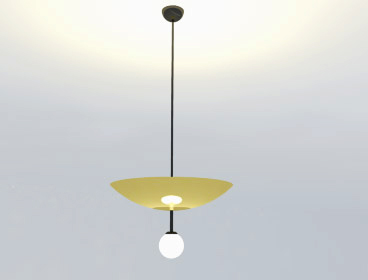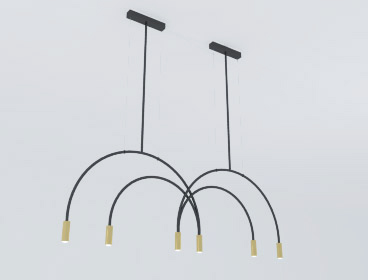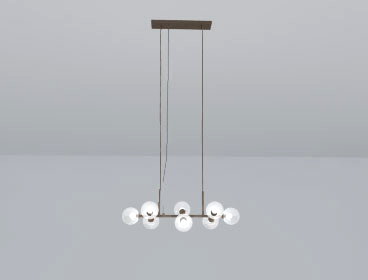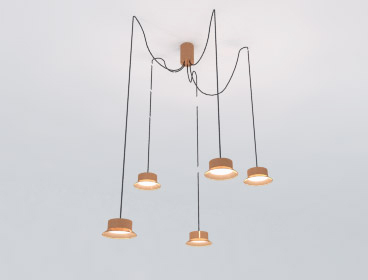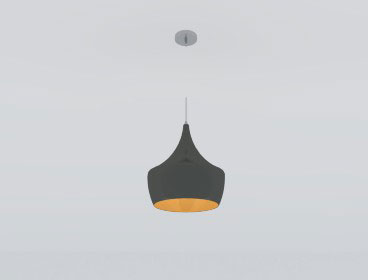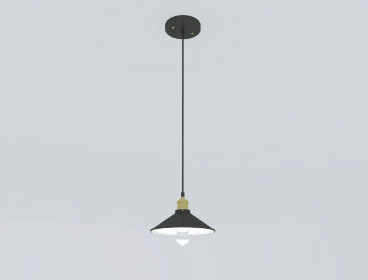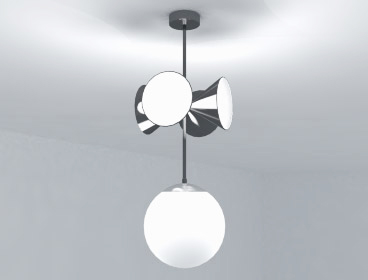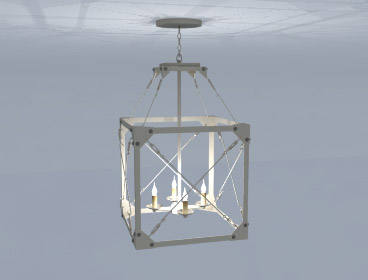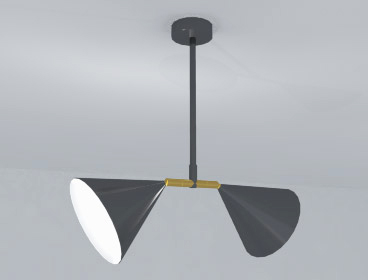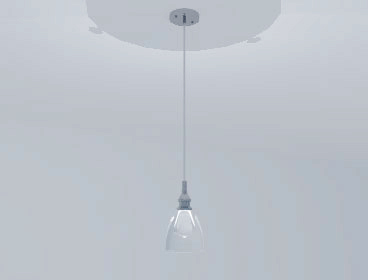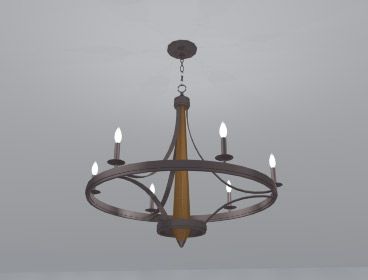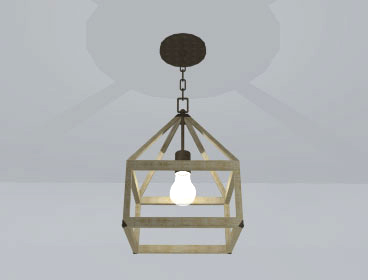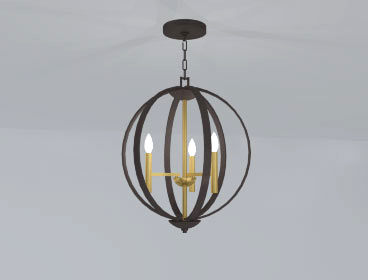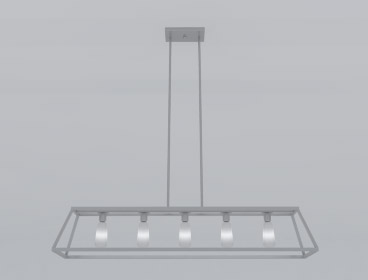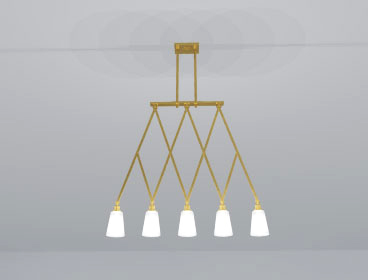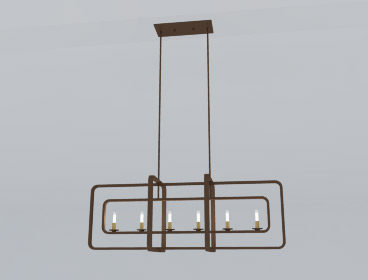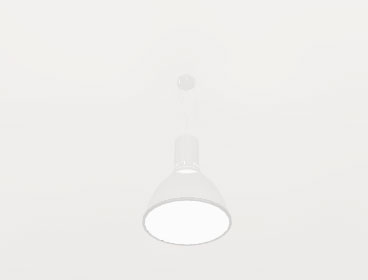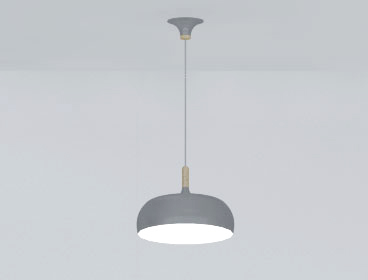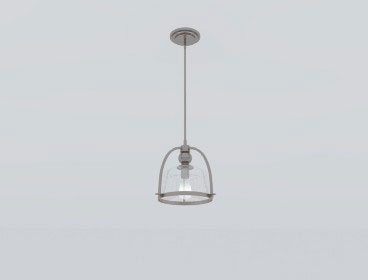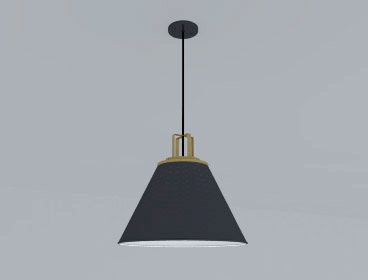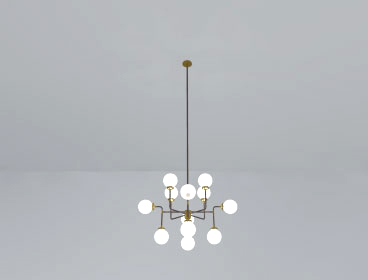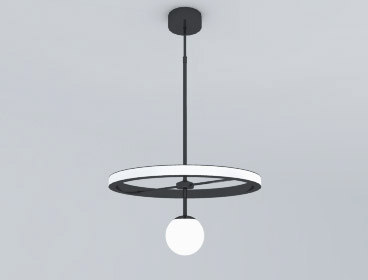 ---
Floor and table lamps are selected for practical utility, articulated task lamps will always fit nicely in an industrial sapce, as will many mid-century style fixtures.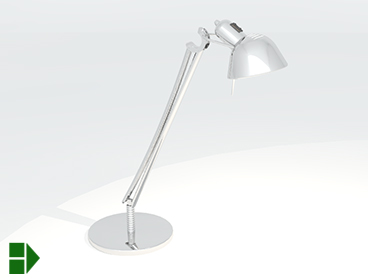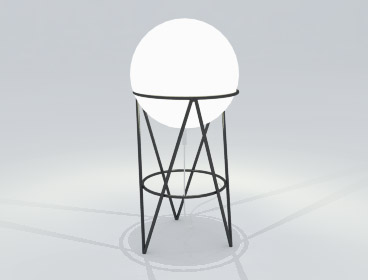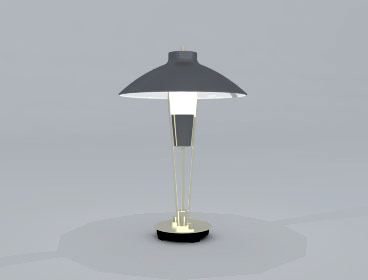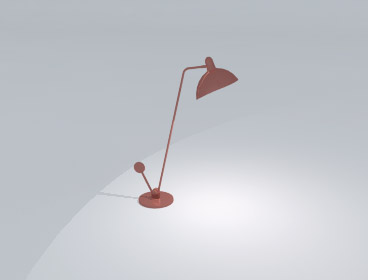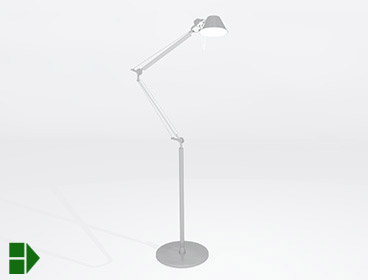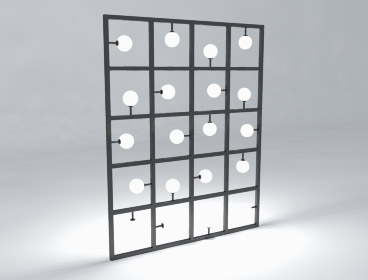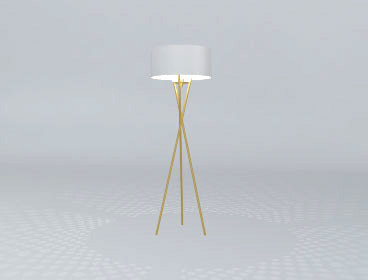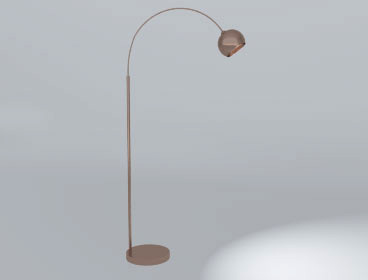 Recessed lighting is not a prevailing feature in industrial interior design, but track lighting can be a great option to provide ambient light and complement your impact pieces.
---
As previously mentioned, hardware and other utilitarian accents are a fundamental trait in industrial interior design.
Heading, ventilation, and structural elements are exposed. Tall, metal framed factory-style windows are prevalent, and the window is typically left bare. Garage doors can be an excellent accent!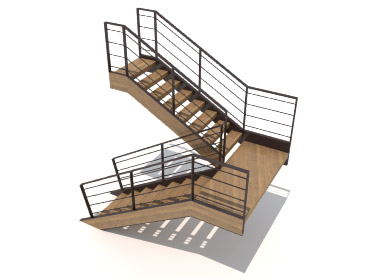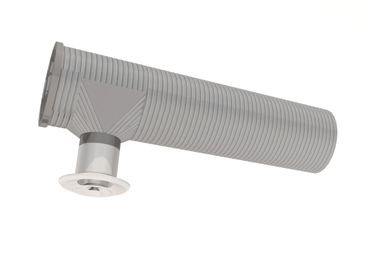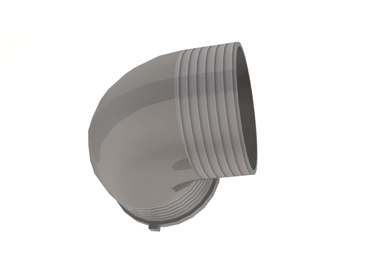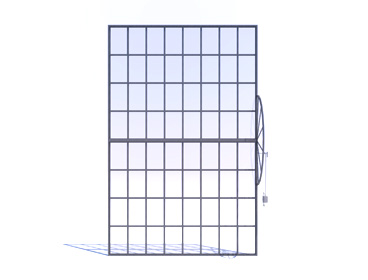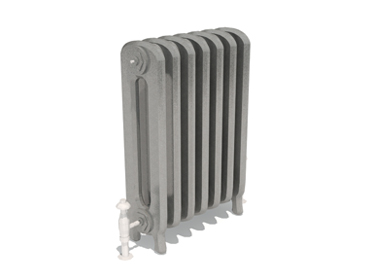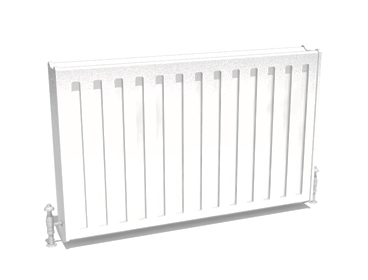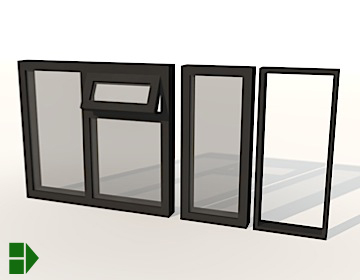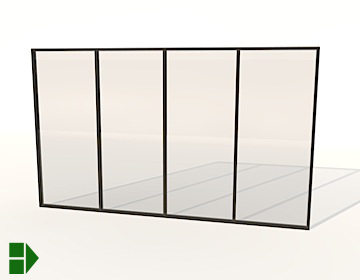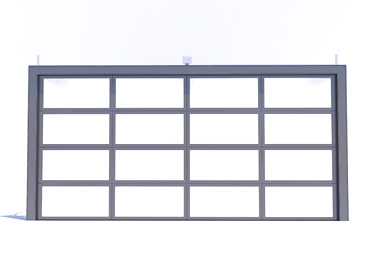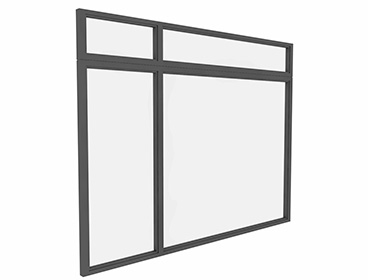 Tip - Use the dynamic component windows shown above to tailor the dimensions, spans, and thickness to your taste.
---
Abstract art pieces are a great way to inject some color into an otherwise neutral palette, though black and white photography is always a safe choice. Large potted plants—yucca, agave, fig, and even cacti provide a warm contrast to cooler metal and concrete. Antique storage chests might be seen as the quintessential industrial accent piece, and old railroad artifacts, vintage signage and automobile memorabilia are great for a more casual space (just don't go over the top!).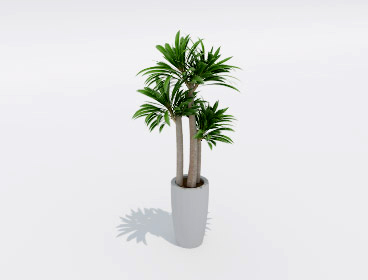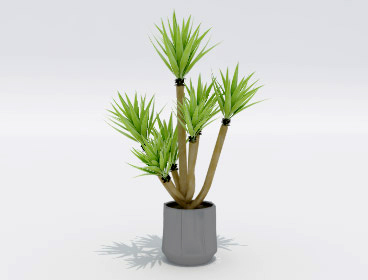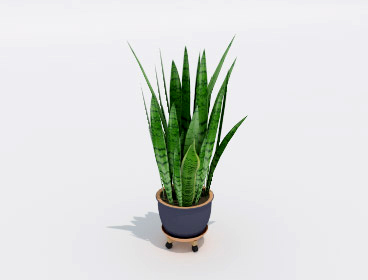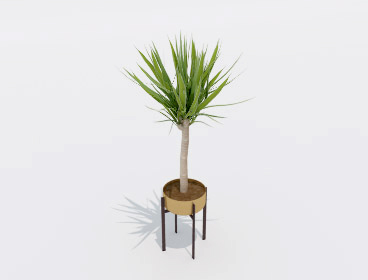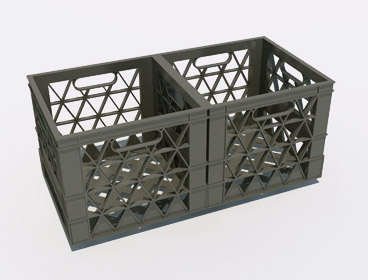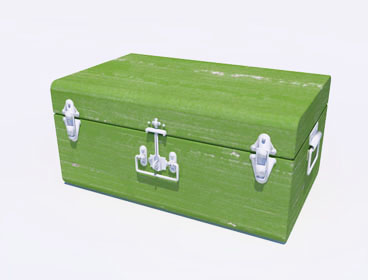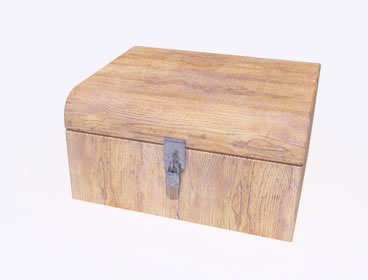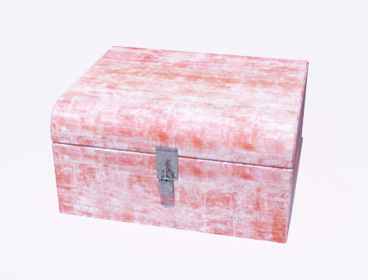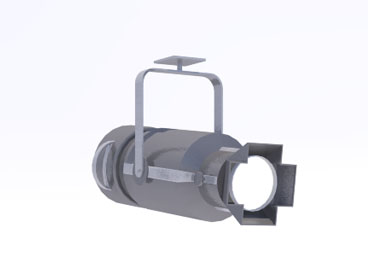 Tip - Industrial would not be described as a minimalist design style the way Scandanavian or Contemporary design might, but neither is it busy or haphazard. A great rule of thumb is one decorative piece per surface.
---
We sincerely hope this write-up helps you in some way, whether it's just to provide some insight into a new design style, or give you a better idea what kind of Podium Browser components are available to you when working in the industrial interior design style.
We have a second part planned, in which we will put all the above ideas into practice via a short tutorial/demonstration.
Did this pique your interest? Show us your industrial renders on the forum!