Version 2.6 is a major feature update and will require a small upgrade fee when it reaches commercial release. The new features are summarized below:
HDR image-based lighting - New lighting alternative for sun/sky.
HDRI background library coming soon to Podium Browser.
Changes to Podium Browser interface and licensing - Podium Browser will now be fully included with Podium V2.6
Render settings can now be saved with individual SketchUp scenes.
Multi-threaded Podium exporter - Processing scenes is faster for large models.
New HDR prests; support for HDR post-processing in PIE with "Adaptive linear tonemapping."
Additionally, V2.6 will be the active update path, meaning a V2.6 license will be required for future incremental updates.

Note - Installing V2.6 beta will start a fresh 30 day trial period. If you previously installed a Podium trial you will be able to test and evaluate V2.6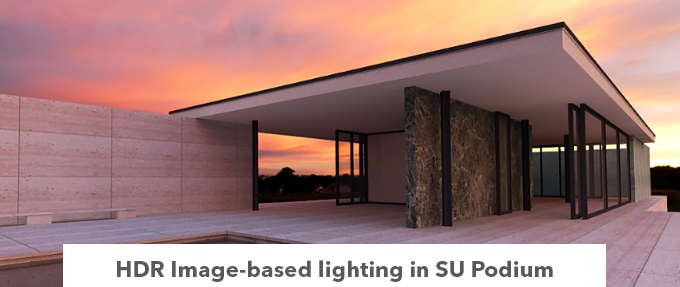 HDR image-based lighting (sometimes called HDRI lighting) is a powerful alternative to the two Podium skies, providing a fast, easy way to light your exterior images under a wide range of lighting conditions.
Five HDRI backgrounds are included with V2.6 installation.
Approximately 40 additional HDRI backgrounds will be available in Podium Browser.
HDRI background becomes both the sky and the light source, simplifying exterior workflow.
Use your own - You may add any HDRI as a background option in Podium.
Check out the HDRI introduction video and see some examples on the page below!

Support for .HDR editing in Podium Image Editor
PIE fully supports editing for .HDR renders, and includes a one-click Adaptive Linear tonemapping option.This is a histogram normalization function designed to fix exposure problems without losing your highlights and shadows.
By rendering to HDR and selecting the adaptive tone map, a vastly underexposed render can easily be pulled into an acceptible luminance range, providing a better base for further post-processing and preventing the need to re-render a dark image.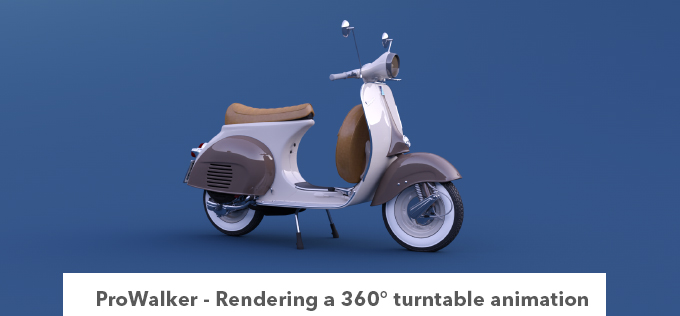 New ProWalker GPU tutorial - In this video tutorial we explain how to render a 360° turntable animation as you might see in product rendering or industrial design. We first use SU Animate to create a circular camera path, and then import it into ProWalker to set up lighting and render the video.
If you don't have SU Animate, that's fine! A SketchUp file with all the necessary camera paths is provided on the tutorial page below:

Recent uploads include fifteen Japanese kitchen assemblies, and over 80 pieces of public domain artwork from renowned artists including Van Gogh, Monet, Sargent, Toulouse Lautrec, Winslow Homer, Albrecht Durer, and more.
Japanese Kitchen assemblies
Prints and illustrations
Vincent van Gogh
Tom Thompson and Franklin Carmichael
Sargent, Merritt Chase, Childe Hassam, Theodore Robinson, and more.

Podium Browser contains over 16,500 high-quality models: furniture, light fixtures, plants, and more. All pre-configured with SU Podium materials and textures, and redy to render at the click of a button.

Ongoing Webstore Deals